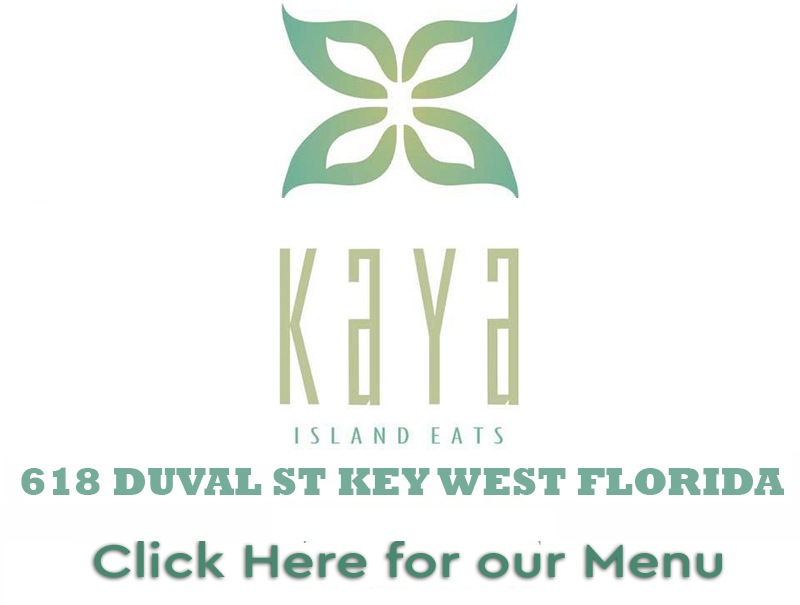 Welcome to Kaya Island Eats, where island fusion cuisine meets the perfect setting at 618 Duval Street in the heart of Key West, Florida. We are excited to introduce our Pacific and Caribbean-inspired menu, featuring dishes that are sure to satisfy your taste buds and leave you wanting more.

For the seafood lover, you won't want to miss our Killer Fish Tacos. These tacos are lightly blackened served with a fresh mango, pineapple salsa and delicious key lime cilantro sauce. One of our most popular dishes is our Macadamia Coconut Catch with Hoisin accent Mango. This mouth-watering dish is a perfect blend of sweet and savory, with a crispy outer layer that gives way to tender, flaky fish on the inside. If you're in the mood for pasta, don't miss out on our Legendary Rasta Pasta. This dish features Macadamia Nut Jerk Pesto garlic and basil, and is sure to transport your taste buds straight to the Caribbean. For those who want something on the lighter side, our Kaya Salad with Spring Mixed Greens Strawberries and Goat Cheese is a refreshing option that's bursting with flavor.

Our signature dish, the Ahi Poke nachos, served with wasabi aioli, tobiko caviar, and seaweed salad atop sesame won ton - a true Kaya original. If you're in the mood for something a little more exotic, our Boom Shakalaka Shrimp with Bang Bang Sauce is always a crowd pleaser. The sweet and tangy Hawaiian Pork Sliders are served with a mango key lime slaw and guava lava sauce, while the Polynesian Party features juicy shrimp grilled to perfection with pineapple and a toasted coconut Thai chili dressing. The Incredible Jamaican Jerk Chicken Wings, is a must-try. These succulent wings are generously coated in goat cheese, jerk sauce, and topped with green onions for the perfect blend of spicy and savory.

Whether you're a tourist visiting the island or a local looking for a new dining experience, Kaya Island Eats is the perfect place to indulge in a fusion of island flavors. Our atmosphere is relaxed and welcoming, providing the perfect backdrop for a night out with friends or a romantic dinner with that special someone.

So come on down to Kaya Island Eats located at 618 Duval Street in the Heart of Key West and let us take you on a culinary journey through the Pacific and Caribbean islands. Our dishes are prepared with fresh, locally sourced ingredients and are sure to satisfy even the most discerning palate that will take your taste buds on a tropical journey they won't soon forget. We can't wait to see you!



KAYA ISLAND EATS

618 Duval Street, Key West Florida